Office of Financial Research Launches New Website
Published: February 3, 2015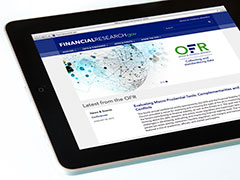 WASHINGTON – The U.S. Office of Financial Research launched a new website today to provide policy makers and the public better access to the OFR's high-quality data and independent analysis that helps to promote financial stability.
The new website is at www.financialresearch.gov.
The OFR was established by the Dodd-Frank Wall Street Reform and Consumer Protection Act to provide research, data, and analysis for the benefit of the Financial Stability Oversight Council (FSOC), Council member agencies, Congress, and the public.
"The launch of our new website marks a new chapter for the OFR," OFR Director Richard Berner said. "This stand-alone site promotes transparency and accountability, and it greatly enhances our ability to provide to the public the results of our efforts to assess and monitor threats to financial stability, to fill in the gaps in financial analysis and data, and to evaluate policy tools."
The new site contains a "Directors Blog," biographies of senior managers, and details about OFR initiatives to collect financial data and improve data quality. The site also provides the OFR's annual reports, working papers, staff discussion papers, and other research and analysis.
Other information on the website includes:
An inventory of the financial data purchased, collected, and developed by FSOC member agencies;
Updates on the OFR's leadership on the Legal Entity Identifier, or LEI, a global data standard like a bar code for identifying parties to financial transactions; and
Information about the OFR's Financial Research Advisory Committee, which helps the OFR develop and employ best practices for data management, data standards, and research methodologies.
"The new website helps us create our own, unique identity – which is critical for ensuring the integrity, objectivity, and independence of our work," Berner said.